Custom Sizes

Order custom-sized boxes to suit your needs perfectly.

Personalized

Discover personalized packaging exclusively for your needs.

Custom Style

Personalize your style with customizable packaging.

Free Design Support

Unlock free design support.

Free Shipping
Discounted Prices
The best method for safeguarding your macarons is to package them inside custom macaron boxes. They have remarkable pyramidal, gable-style, and pentagonal shapes. They show products in a fascinating way because of their special extras, such as placeholders and customized inserts. There are numerous compartments inside custom rigid macaron boxes for organizing two or more different macarons. These inserts safely retain delicate macarons and guard them from various damages. Their magnetic or Velcro lids are airtight to prevent risks due to dust and sunshine. They also have handles to make their carriage easier for buyers.
Important manufacturing materials include cardboard, kraft, and bux board because they protect the contents from harm caused by the environment or by other elements. They are very eco-friendly due to these materials' biodegradability and recyclable nature. Custom-printed macaron boxes come with printing components, including images, brand logos, textual information, and QR codes. These printing elements advertise the brand and the products. Most consumers consider contemporary printing techniques, including lithography, digital printing, and others for high-quality printing. Their visual appeal is enhanced by a variety of embellishments, such as matte or gloss coatings, silver or gold foiling, PVC, and raised writing. Custom boxes can be given a textured look by embossing or debossing.
To get a quick price quote, please submit this price request form after filling out your required specifications. Our sales representative will shortly get in contact with you.
Unlock the potential of your products with our unrivaled packaging solutions tailored to your industry and specific product needs.
Sample Price: $1.75 (Per Box)
| | |
| --- | --- |
| Dimensions | All custom sizes & shapes |
| Min.quantity | 50 Boxes ( Hardproof Sample Option Available ) |
| Default process | Die cutting, gluing, scoring, perforation |
| Printing | Cmyk, pms, no printing |
| Options | Custom window cut out, gold/silver foiling, embossing, raised ink, pvc sheet. |
| Turn around time | 10-12 business days , rush |
| Paper stock | 10pt to 28pt (60lb to 400lb) eco-friendly Kraft, e-flute corrugated, bux board, cardstock |
| Proof | Flat view, 3d mock-up, physical sampling (on Request) |
Macaron boxes are small containers that hold your macarons in place to prevent them from cracking. Or breaking as a result of movement. They are all about cardboard.
The box intends to keep the macarons together. And prevent them from moving or hanging around during transportation. This helps to ensure that they arrive at their destination in good condition. So they can be sold or consumed by customers.
They are great for storing delicate, crunchy cookies in a safe way that won't crush them. They can also be utilized to transport your macarons out of the kitchen. And into a safe place to eat them later or even to serve them on a special occasion.
We're here to aid you in discovering the perfect macaron box. Whether you want something cool or something with a little more creative touch. Our team of nice experts will help you locate the right one for your needs. We know that what matters most is finding a box that enables you to express your brand. And when you find the right box, it can well make all the difference in how your customers see your brand.
Do you ever wish that your sweet treats stood out a little more? Of course, you do! Our Macaron Boxes are the perfect solution for this problem. Whether you're getting them for yourself. Or sending them as a gift, these boxes make adding some flair to your confections easy. Order yours at customboxesonly.com
Design the Macaron Boxes of your dreams.
You can design your box with our help. We have templates for you, or you can create your design from scratch.
You can add your logo or photos of your products and store. You can even add text if you like! The possibilities are endless! You can choose any color for the box that matches your brand identity. Our custom macaron boxes are ideal and brilliant.
Also, they are all of about high-quality, food-safe materials that are 100% recyclable. This implies you can use them repeatedly without worrying about the health of your customers or staff.
Finest quality macaron boxes
Our boxes are an essential part of the macaron-making process. If you are like usual individuals, you have tried making macarons at least once or twice. While they are relatively easy to make, some steps, such as finding the right box for your macarons, can be difficult. Not all boxes are created equal; not all will work well for your needs.
If you need printed macaron boxes that are affordable and high quality, we have what you need! We offer excellent prices on our products. And pride ourselves on seeing great customer service. We desire to provide only the best quality products at reasonable costs. So that everyone can enjoy baking their favorite foods without really worrying about whether or not they will acquire what they need when they shop online at our store.
Beautiful boxes with customization options
You can create beautiful wholesale macaron boxes with us. We have a variety of designs to decide from. And we can assist or aid you in designing your package. You can choose the coloring and other features of your box, including whether or not it should be made out of recycled material (which is better for the environment).
You will receive your custom cardboard boxes in 5-7 business days after placing your order!
The design process is quick and easy; we'll stroll you through every step to get exactly what you want at an affordable price.
Why should you choose our custom boxes?
If you're reading this, you've probably already decided your business needs a custom macaron box. You enjoy something that will stand out from the crowd and be practical and functional.
We offer an extended range of products to choose from to uncover exactly what you're looking for in size, shape, and material. We can also customize our custom boxes according to your needs.
Our team will help guide you through every phase of the process, from design concept to final product delivery at an affordable price point, so don't hesitate any longer - start designing now!
Contact us
We hope you enjoyed this guide to our Macaron Boxes. Place your order at customboxesonly.com
Food & Beverage Packaging
A water based coating that creates a semi gloss surface.
Food Safe Coating
A coating applied on the inner side of the box to make it food-safe.
Gloss Lamination
A thin layer of lamination that makes the box surface glossy.
Food & Beverage Packaging
A water based coating that creates a semi gloss surface.
Metallic Coating
A metallic layer of coating applied to give an extra shine to your box.
Pearlescent Coating
A decorative coating to give surface an extra shine.
Soft Touch Coating
A coating that produces smooth surface. Its considered a cheaper alternative to lamination.
UV Coating
UV-cured coating that can be done for spot and flood applications.
Matte Lamination
A thin lamination that gives the box a matte surface.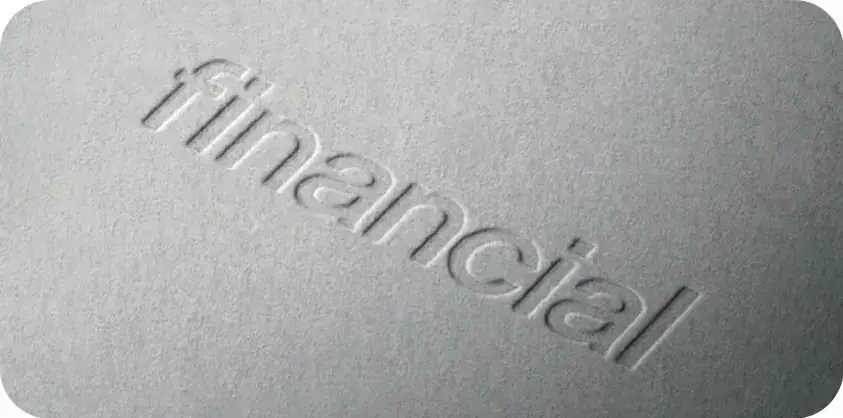 Embossing and Debossing
A process that creates a raised or recessed pattern on the surface.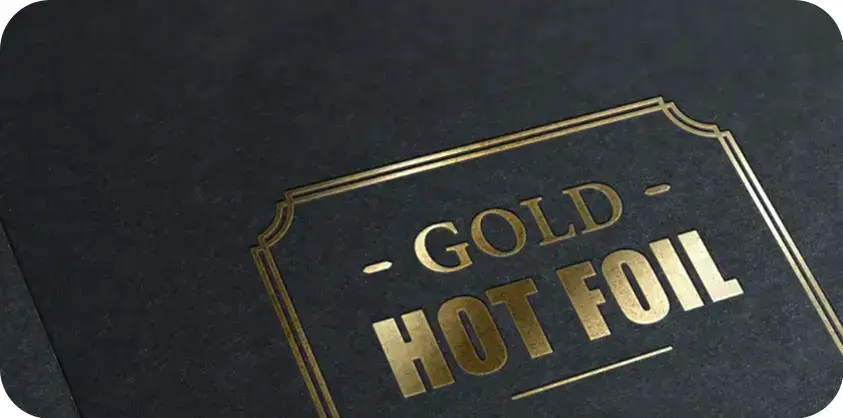 Metallic Foil Stamping
Hot foil transferred onto paper using stamping method.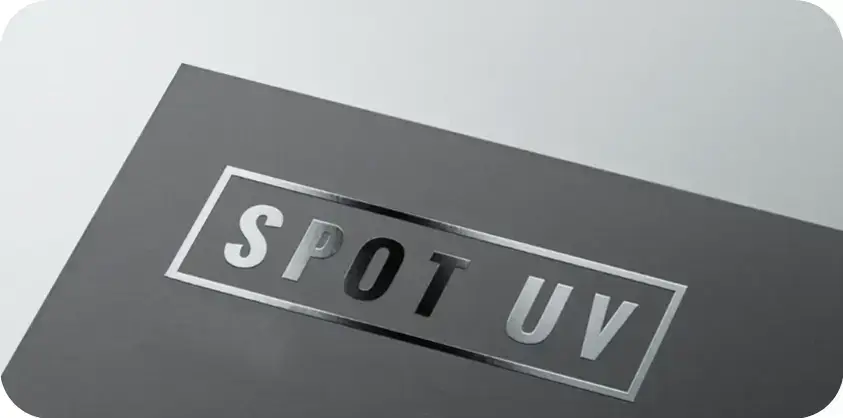 Spot UV
UV gloss coating cured on specific areas.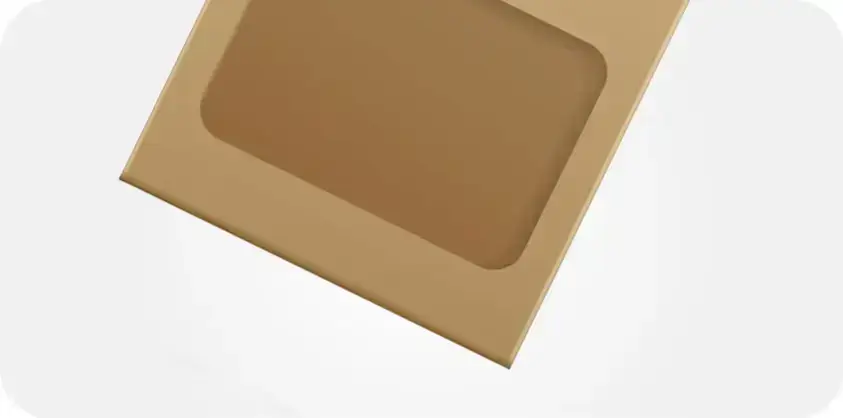 Window Cut-Out
A process where a cut-out is created on the box.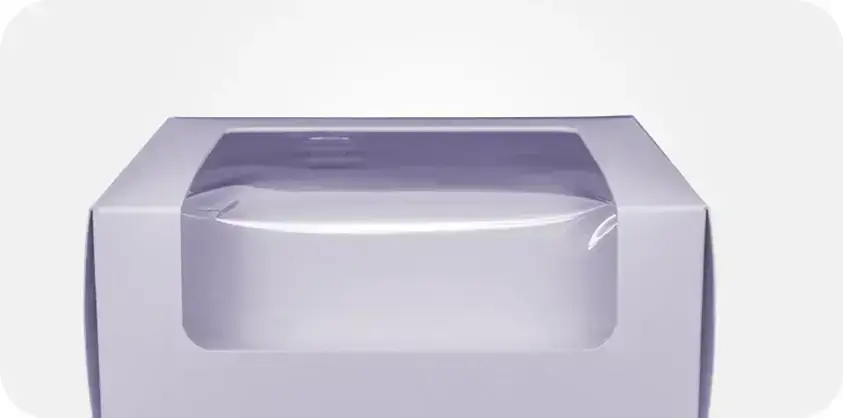 PET Window Patching
A method to apply a transparent plastic film covering the cut-out.
Frequently Asked Questions
Consider recycled paperboard or kraft paperboard for environment-friendly custom macaron boxes. These materials are biodegradable and recyclable and harmonize with sustainable packaging methods while ethically displaying your delectable macarons. The ease of producing these raw materials from alternative organic substances like seaweed, bamboo pulp, and corn starch offers a huge perk in this regard. These materials have a shorter lifespan if thrown into landfills or any other open areas accidentally or knowingly and would decompose in a shorter duration. Getting the eco-friendly macron boxes would also keep the macrons free from toxic material and keep the macrons fresh for longer.
It is critical to choose package providers who comply with high-quality control and sanitary requirements to assure the safety of macaron customers. Using food-grade materials and keeping macaron boxes in a clean and controlled setting further reduces the danger of contamination. On the other hand, we use no plastic sheets on these boxes to protect print when you want to achieve such goals. The food-grade coatings are also that we use for keeping the macrons safe from toxins and allergies that could go against the dietary restrictions if imposed on any person.
Yes! You can order both in short-run and bulk macron boxes. We allow businesses to buy them in small numbers for special events, seasonal specials, or limited-time collections. This adapts to the changing demands of bakeries and confectionery stores, making inventory management easier. Moreover, you would be safe from the hassle of keeping the stock in the warehouse if it goes unused in the season. After the passing of the season, it is better to order in bulk so you can save some pennies on buying wholesale. The biggest advantage you can take with the wholesale order of custom macaron boxes is free shipping or minimal shipping costs.
Your Customer Journey Simplified
Customized orders can be scary to initiate. We keep the Process as simple as we can for your convenience!
Discuss Your Requirements

Quotation and Confirmation

Consultation and Design Work

Production and Delivery