Custom Sizes

Order custom-sized boxes to suit your needs perfectly.

Personalized

Discover personalized packaging exclusively for your needs.

Custom Style

Personalize your style with customizable packaging.

Free Design Support

Unlock free design support.

Free Shipping
Discounted Prices
Custom Eye Shadow boxes help expand your company's popularity in the market. The primary materials used in their production include kraft, bux board, and corrugated. These materials are strong and durable as they can withstand a range of pressures during transit and handling. They support the company's efforts to follow ecological standards because they are recyclable and biodegradable. Custom rigid eye shadow boxes come with internal velvet lining or foam inserts to improve the presentation of products. There are several compartments inside a box to arrange two or more kinds of eye shadows in an appropriate manner.
To represent the packaged items, they include printed graphics and relevant imagery. They also come with printed brand specifics such as the logo and its name. They have an impact on consumers' buying decisions because of their printing elements, such as textual details, QR codes, or barcodes. Some consumers use different finishing options, including embossing, PVC, raised ink, and others, to make custom-printed eye shadow boxes attractive. Silver or gold foiling helps to give these boxes a metal-like appeal. They also come with Velcro lids or magnetic closures to protect the encased products from various risks. Their die-cut handles also let buyers see the packaged products without opening the box.
To get a quick price quote, please submit this price request form after filling out your required specifications. Our sales representative will shortly get in contact with you.
Unlock the potential of your products with our unrivaled packaging solutions tailored to your industry and specific product needs.
Sample Price: $1.75 (Per Box)
| | |
| --- | --- |
| Dimensions | All custom sizes & shapes |
| Min.quantity | 50 Boxes ( Hardproof Sample Option Available ) |
| Default process | Die cutting, gluing, scoring, perforation |
| Printing | Cmyk, pms, no printing |
| Options | Custom window cut out, gold/silver foiling, embossing, raised ink, pvc sheet. |
| Turn around time | 10-12 business days , rush |
| Paper stock | 10pt to 28pt (60lb to 400lb) eco-friendly Kraft, e-flute corrugated, bux board, cardstock |
| Proof | Flat view, 3d mock-up, physical sampling (on Request) |
These boxes are like magical treasure chests for all the beautiful colors that make your eyes sparkle and shine. Picture this: a box that is as colorful as a rainbow, covered in sparkles and glitter just like fairy dust. Manufacturers make it from strong cardboard, so it doesn't break easily, but it feels smooth and velvety to the touch. These boxes can even have a teeny tiny mirror inside. Which is perfect for admiring your pretty peepers when you're on the move. The lid or closing end of the box is like a little door. It opens up to reveal rows and rows of eyeshadow pans. Each pan looks like a wonderful makeup item with its own unique design embossed on top. These eyeshadow boxes are truly every makeup lover's dream come true.
Our incredible eyeshadow boxes are specifically designed to store and display your favorite eyeshadows. Our custom-made boxes will surely make your heart skip a beat. We craft each of our boxes with extreme care and with utmost precision and attention to detail. This way, we make sure that it not only keeps your eyeshadows safe but also adds a touch of elegance to your beauty collection.
Custom eyeshadow boxes
Your eyeshadow box is your chance to practice your creativity. We give you so many options to shine bright with your discreet product packaging. We offer you various types of laminations that can enhance your box's beauty and performance as well. You can get them cut into any shape that you may fancy. The designs of custom eyeshadow boxes that we offer you have no limits to how much you can alter them. The best part is that we do not take anything from you extra on the number of cuts that you add to a single box design. This gives our valuable customers extreme liberty to have as many die-cut areas in their designs as they want.
Prints of eyeshadow boxes.
Your eye shadow box is like a canvas on which you can bring your aspirations to life. You can paint it to your heart's content. From flashy designs to somber tones, you can build your brand image through your product packaging imagery. Our printed eye shadow boxes speak volumes about the quality that we send to our valuable clients. Our parents are known to last long and stay vibrant even after multiple uses. We print our boxes in such a way that they are able to perform brilliantly even if they are put under circumstances that they were not initially made for. Our inks do not bleed due to moisture. Our images do not blur what time.
Once you invest in getting your boxes from us, we assure you that you will not be needing packaging for your eye shadows anytime sooner. We source our inks from sustainable suppliers. This helps us to maintain a carbon-free manufacturing process hence helping us to contribute to a greener environment.
Free and fast shipping
We offer free standard shipping within the United States of America. Our standard shipping takes about 10 to 15 days to reach our customer's doorstep. These 10 to 15 days account for the processing time of the order, the manufacturing and drying time, and ground shipping. We will also like to mention here that the order processing time begins after we get approval for the design from you. For people living outside of the United States of America, we offer highly affordable shipping plans that do not burden their budgets at all.
For our valuable clients that are in a hurry and need their packaging in a short amount of time. We have an expedited shipping system that delivers the orders within eight days. Certain terms and conditions do come into action when you select this option. Our capable representatives communicate all the perks of our shipping plans with our clients at the time of order placement to help them make the best decision.
We also offer extra savings on our wholesale eye shadow boxes. If you buy in bulk from us, the costs will get lower. This is due to the fact that we make our boxes in-house and the production cost decreases per unit as the quantity goes up. We guarantee you that the quality of your boxes remains the same, no matter the quantity of your order. We closely check each and every box that we dispatch to our customers. This is to make sure that each box is as per the quality standards that we have set for ourselves.
Conclusion:
Your eye shadow boxes need to be multi-purpose in order to give the best protection and exhibit your valuable eye shadows. We make our boxes while keeping all of these requirements in mind to give the best possible solution to our customers. You can have special features in your boxes from us. We can make you a box for a simple single eye shadow are an assortment of shades just the way you like it. We can add sections and compartments in your boxes to make them further secure for the product inside. No matter what type of eye shadow you make, we will offer you a perfect box for it.
Food & Beverage Packaging
A water based coating that creates a semi gloss surface.
Food Safe Coating
A coating applied on the inner side of the box to make it food-safe.
Gloss Lamination
A thin layer of lamination that makes the box surface glossy.
Food & Beverage Packaging
A water based coating that creates a semi gloss surface.
Metallic Coating
A metallic layer of coating applied to give an extra shine to your box.
Pearlescent Coating
A decorative coating to give surface an extra shine.
Soft Touch Coating
A coating that produces smooth surface. Its considered a cheaper alternative to lamination.
UV Coating
UV-cured coating that can be done for spot and flood applications.
Matte Lamination
A thin lamination that gives the box a matte surface.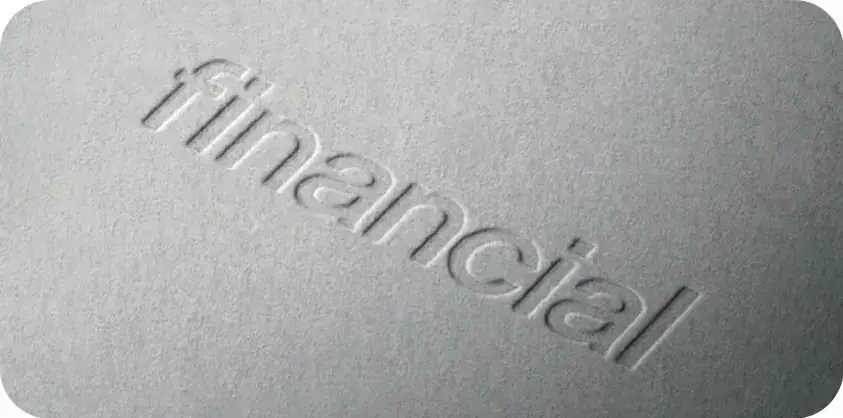 Embossing and Debossing
A process that creates a raised or recessed pattern on the surface.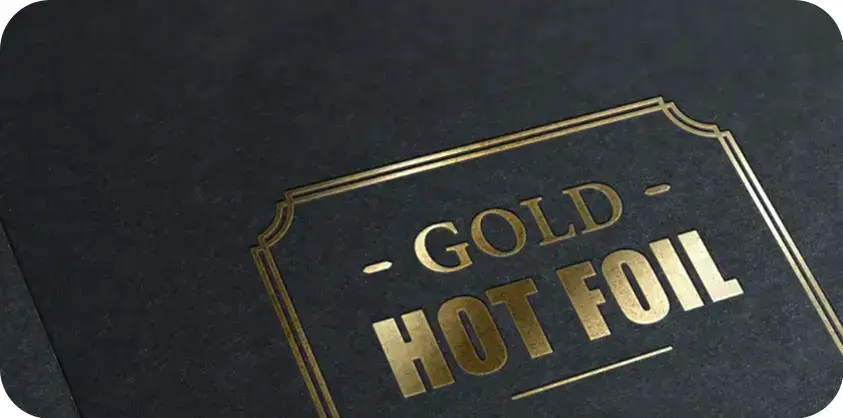 Metallic Foil Stamping
Hot foil transferred onto paper using stamping method.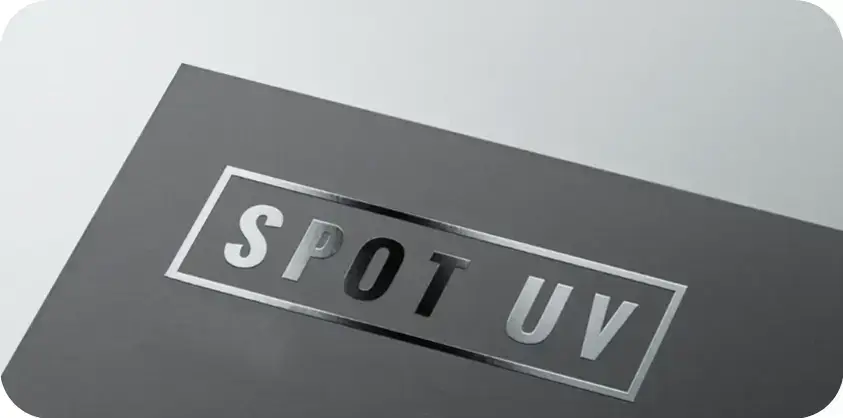 Spot UV
UV gloss coating cured on specific areas.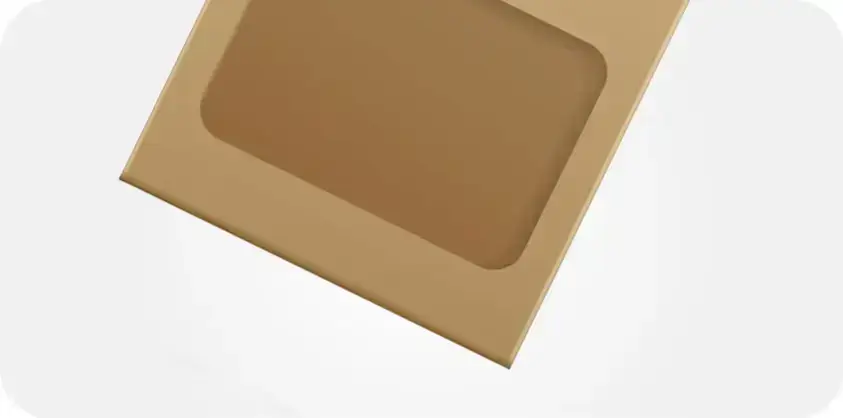 Window Cut-Out
A process where a cut-out is created on the box.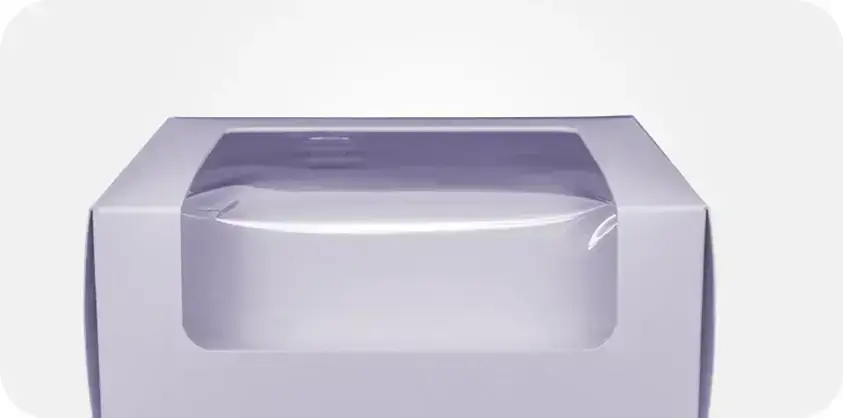 PET Window Patching
A method to apply a transparent plastic film covering the cut-out.
Frequently Asked Questions
Compliance with relevant regulations and guidelines in your region is crucial to make sure that your custom eyeshadow boxes meet safety and labeling requirements. Apart from that, mentioning the importance of patch tests and discontinuation of the use if irritation occurs is also beneficial for the customers. Recommending storage in cool and dry places away from sunlight and high temperatures is also suitable. Encourage your customers to use clean applicators and sanitized brushes and apply eyeshadow to prevent contamination. We encourage our customers to clearly indicate the expiration date of the product on their eyeshadow boxes and, if applicable, also add statements to highlight that the eyeshadow is cruelty-free and vegan. These small steps make a huge impact on increasing brand loyalty and establishing you as a responsible brand.
We offer multiple sustainable plastic options that we can add to your custom eye shadow boxes to enhance their practicality and productivity. ABS is a durable and recyclable plastic that can come in use for packaging, especially for more rigid components of the box. We also offer Green PE, which is made from renewable sugar cane ethanol and has a very low carbon footprint. There's also an option to use post-industrial recycled plastics that are made from industrial waste streams rather than post-consumer resources. We also offer bioplastic options that are made from your sources, like corn starch, potato starch, and sugar cane. The application of any of these sustainable plastics in your eye shadow boxes can enhance their usage capacity while still making them land in the safe zone of eco-friendly packaging options.
We can add multiple visibility features to your custom eyeshadow boxes. We can also make translucent or semi-transparent packaging that allows full-scale visibility of the product. We use high-quality images and illustrations of the eye shadows to give customers a clear idea of what is inside, which use adequate contrasting backgrounds that complement the eyeshadow shades and make them stand out. Our designers design uncluttered designs for your custom eyeshadow boxes to allow the eye shadows to take center stage. We also suggest using clear plastic sleeves or slip covers that wrap around the eye shadow palette. These sleeves give protection to the product while allowing the customers to see the colors through the transparent material. We can also add display trays and eyeshadow boxes to elevate and angle the eye shadow bands, making them more visible when the box is opened.
Your Customer Journey Simplified
Customized orders can be scary to initiate. We keep the Process as simple as we can for your convenience!
Discuss Your Requirements

Quotation and Confirmation

Consultation and Design Work

Production and Delivery