Custom Sizes

Order custom-sized boxes to suit your needs perfectly.

Personalized

Discover personalized packaging exclusively for your needs.

Custom Style

Personalize your style with customizable packaging.

Free Design Support

Unlock free design support.

Free Shipping
Discounted Prices
Custom gold foil boxes allow customers to see how the products are arranged within due to their die-cut windowpanes. Some consumers purchase them with specialized-shaped windows to enhance their aesthetic appeal. Many new clients are drawn to them because of their briefcase-like, pillow-style, and hexagonal boxes. Buyers can easily carry the products within due to their handles. Since cardboard, kraft paper, and bux board are readily available in thicknesses ranging from 10pt to 28pt, those materials are used to make the items. They are also environmentally beneficial because they are recyclable and biodegradable. Their strength and toughness help shield the packaged items from a range of threats.
Consumers ask for custom rigid gold foil boxes with unique inserts and numerous compartments. These add-ons make it simpler to arrange the items stylishly. Their numerous compartments limit the potential of dangers due to shocks and jolts and make arranging two or more items in each compartment easier. Custom-printed gold foil boxes come with printed product details, pictures, and drawings. Gold foiling gives them a metal-like appeal and enhances the value of packaged items. Popular procedures such as embossing and debossing help to give them a textured or raised effect.
To get a quick price quote, please submit this price request form after filling out your required specifications. Our sales representative will shortly get in contact with you.
Unlock the potential of your products with our unrivaled packaging solutions tailored to your industry and specific product needs.
Sample Price: $1.75 (Per Box)
| | |
| --- | --- |
| Dimensions | All custom sizes & shapes |
| Min.quantity | 50 Boxes ( Hardproof Sample Option Available ) |
| Default process | Die cutting, gluing, scoring, perforation |
| Printing | Cmyk, pms, no printing |
| Options | Custom window cut out, gold/silver foiling, embossing, raised ink, pvc sheet. |
| Turn around time | 10-12 business days , rush |
| Paper stock | 10pt to 28pt (60lb to 400lb) eco-friendly Kraft, e-flute corrugated, bux board, cardstock |
| Proof | Flat view, 3d mock-up, physical sampling (on Request) |
Gold foil boxes are a special type of packaging that uses the reflective properties of gold to create a stunning, shiny finish. These boxes are often used to package jewelry and other high-end products but can also be used for cosmetics or other luxury goods.
They are made using a special gelatine paper coated in gold and then rolled into a tube shape. The tubes are then placed on each other and glued together to create the final box shape. The box's interior is coated with another layer of gold paper so no light can penetrate it. This creates an incredibly bright shine that can make your product stand out from the public!
The primary reason that these boxes are in use is because they look good. And they're ideal for promotional items for companies or people who want to ensure their product stands out on the shelf.
Introduction
We know that when you're getting ready for an event, sometimes the last thing you like to do is finish hours figuring out how to package your gifts. You want it to be effortless, fast, and beautiful—which we deliver with our gold foil boxes.
Our boxes are all about a special kind of paper with a metallic finish on one side. When you hold it in the light, it looks like pure gold! We also offer a combination of colors to match any occasion or color palette.
The best part? These boxes are reusable! Just fold them up again after use and store them away until next time. We are available at customboxesonly.com
Customize gold foil boxes with the company logo.
You can customize your boxes with the company logo. This is a prevalent option, making the product more personal and professional. The customization can be done in several ways:
You have many options for fonts, colors, and designs when you're customizing your packaging. For example, if you want to use or get a specific font for your logo or text on the box (or both), we can accommodate that request. We also offer basic designs you can customize by adding logos or other images in certain areas. If none of those options work for what you need--no problem! We'll design something completely new.
Make your brand better known.
You've probably heard that a brand is the sum of all your customer interactions. Our Custom Gold foil boxes are a great way to help you make a stronger brand identity. So that people identify and recognize you as soon as they see your products or services.
This works because creating an emotional connection with customers is one of the critical or important things when it comes to marketing strategies. The foil boxes will ensure people have positive feelings about your business, which means more sales for you!
Adds a high-end finish to your packaging with Gold Foil Boxes
Our Boxes add a high-end finish to your packaging, making it more eye-catching and elegant. They're perfect for presenting your products in a premium fashion that makes them stand out. Whether you want to make your brand better known or protect fragile items with style, our Custom Printed Gold Foil Boxes are a perfect choice!
Protect fragile items with style.
Protecting fragile items during shipping, storage, and display is a must. Our boxes are perfect for the job because they're made from high-quality card stock thick enough to protect your valuables without adding unnecessary weight or bulkiness. They look prominent when paired with our other products, like our Gold foil envelopes!
High-quality boxes for presenting your products in a premium fashion
Our gold foil boxes wholesale are a great way to present your products in a premium fashion. They are all about high-quality materials. Also, these boxes shield your products and help them stand out.
They're also customizable with your logo or other artwork, so you can create them exactly how you want them!
Conclusion
So, if you're looking for the perfect packaging to showcase your products in style, look at customboxesonly.com. Our Gold Foil boxes are popular among many businesses and brands because they offer many benefits. From adding branding elements like logos or designs onto the box to protecting fragile items with a high-end finish that adds value to any presentation, these little beauties will make all the difference!
Food & Beverage Packaging
A water based coating that creates a semi gloss surface.
Food Safe Coating
A coating applied on the inner side of the box to make it food-safe.
Gloss Lamination
A thin layer of lamination that makes the box surface glossy.
Food & Beverage Packaging
A water based coating that creates a semi gloss surface.
Metallic Coating
A metallic layer of coating applied to give an extra shine to your box.
Pearlescent Coating
A decorative coating to give surface an extra shine.
Soft Touch Coating
A coating that produces smooth surface. Its considered a cheaper alternative to lamination.
UV Coating
UV-cured coating that can be done for spot and flood applications.
Matte Lamination
A thin lamination that gives the box a matte surface.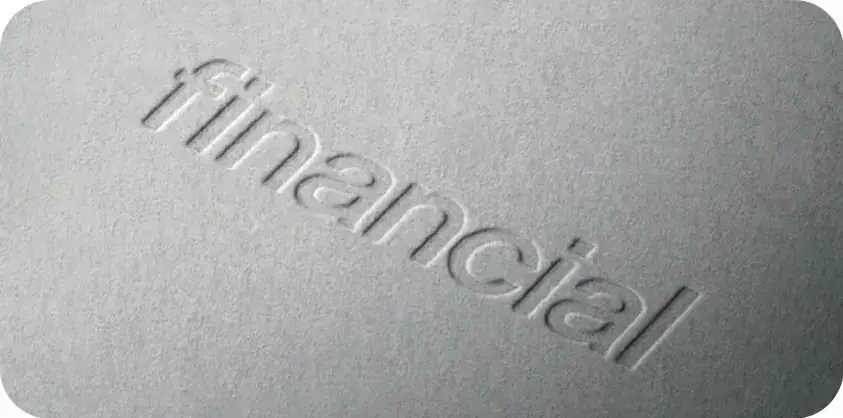 Embossing and Debossing
A process that creates a raised or recessed pattern on the surface.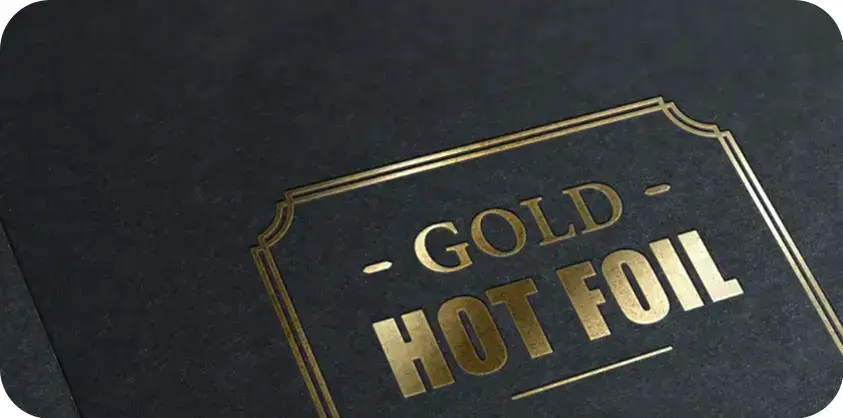 Metallic Foil Stamping
Hot foil transferred onto paper using stamping method.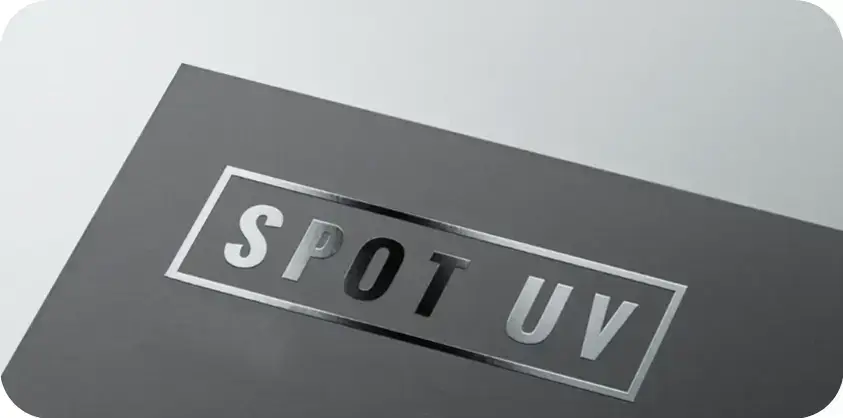 Spot UV
UV gloss coating cured on specific areas.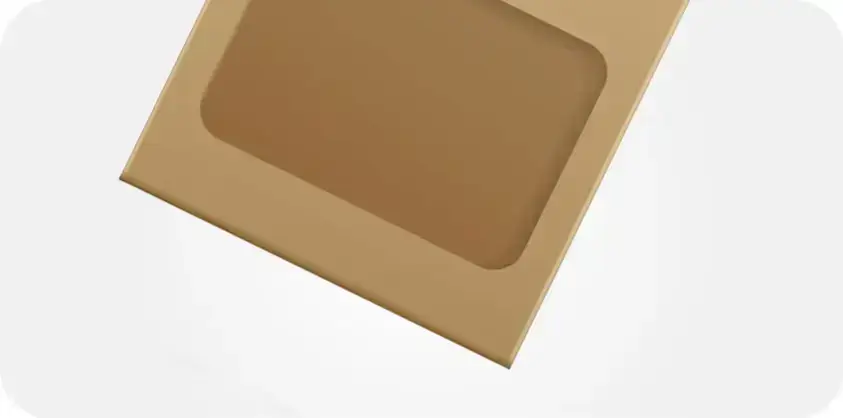 Window Cut-Out
A process where a cut-out is created on the box.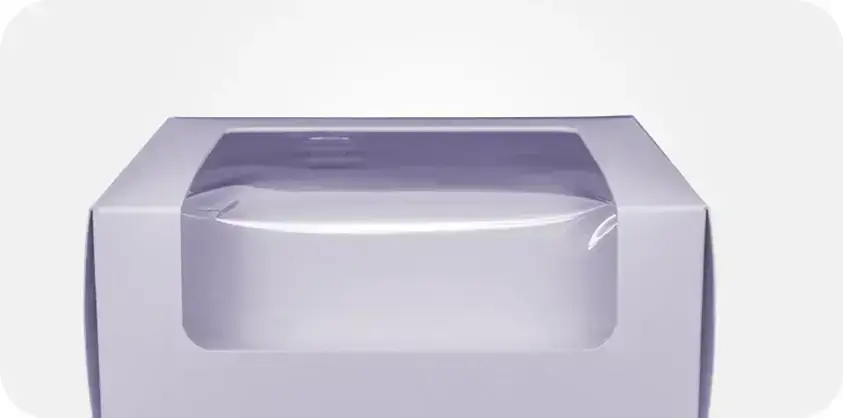 PET Window Patching
A method to apply a transparent plastic film covering the cut-out.
Frequently Asked Questions
Gold foil stamping has a huge impact on the overall packaging design and perceived value of your custom gold foil boxes. It adds a luxury and elegant sense to your packaging and products, making them look more valuable and appealing to buyers. Gold foil stamping conveys a sense of quality and thorough attention to detail, which may have a big impact on your brand's and its goods' reputation among buyers. It adds an aesthetic beauty that is difficult to overlook for the customers looking for their desired products. Gold foil boxes are usually fully coated in gold, but applying the gold foil over a black background also offers a sensational product display.
Custom Gold Foil Boxes are made from materials ranging in thickness from 12pt to 24pt or more. The weight capacity is determined by the material used. However, it is intended to provide strong protection for your items. Thicker materials can withstand larger contents, keeping things safe throughout travel and storage. There is the option of increasing the thickness of the cardboard sheets even more if the products are heavier enough or have to go through harsh shipping conditions. Once can get these boxes with handles as well, offering a carrying ease.
Hot stamping or foil stamping is a precise method used to adorn custom gold foil boxes with gold foil. The proper gold foil design or text is first designed as a custom die or stamp. Between this die and the surface of the box is a thin metal domed foil ring. The gold foil is then attached to the material of the box by heating the die while applying pressure. After that, the die is pulled back, enabling the conditioning material to reanimate. The elegant and enticing appearance of the gold foil boxes is due to the exact method employed to ensure that the gold foil adheres securely.
Your Customer Journey Simplified
Customized orders can be scary to initiate. We keep the Process as simple as we can for your convenience!
Discuss Your Requirements

Quotation and Confirmation

Consultation and Design Work

Production and Delivery